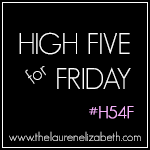 Another one bites the dust!! I'm so ready for the weekend, no plans, just planning on hanging out with my little man, probably getting crafty :)
I want to make a point to do a H5FF post every week, I think it's a great way to appreciate the little things in life. This is definitely the kind of post that isn't written with the intention of fascinating readers, it's just a little snapshot of my life preserved on the interwebs for all of eternity!!!!!
1. One word. Breadsticks <3
2. Tuesday night I was rummaging through some boxes, and Killian asked if he could have one to make a rocket ship... he is so freakin' adorable!! So we got out all the markers, crayons, and stickers we could find, and made him his very own rocket ship :) Since then, he has attached wheels and "blasters", so I'll have to post an updated picture soon :)
3. I came home from work Wednesday night to this beautiful table setting, and dinner prepared by my husband to celebrate our 3rd anniversary.
4. It was delicious, and we finally enjoyed our bottle of Michele Chiarlo Moscato d'Asti, which is by far the best wine I have ever had... which is saying a lot because I usually HATE wine.
5. I get Starb's on Fridays... mmmmm.